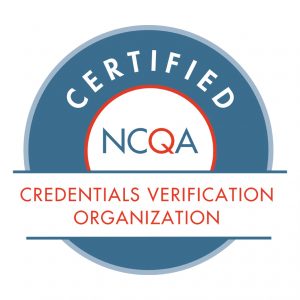 Professional Credential Verification Service, Inc. (PCVS), a national leader for its primary source credentialing verification services, announced it has again earned Certification status from the National Committee for Quality Assurance (NCQA). Certification is awarded to participating organizations on the basis of individual credentials elements. Organizations may be certified for all, some, or none of the 11 credentials elements addressed in the NCQA Standards.
"Achieving CVO certification from NCQA demonstrates that PCVS has the systems, process and personnel in place to thoroughly and accurately verify providers' credentials and help health plan clients meet their accreditation goals," said Margaret E. O'Kane, NCQA President.
For nearly 30 years, PCVS has been held to the highest standards by accrediting bodies. It is one of only six CVOs that are NCQA-certified and accredited by the Utilization Review Accreditation Commission (URAC); and one of two CVOs that is a nonprofit organization. Having these exceptional standards along with innovative processes, improves vetting practices and assures hospitals and health plans that they are credentialing individuals who provide the highest-quality patient care. Ultimately, this improves patient safety practices and outcomes.
"Achieving this certification is the goal of every CVO that is focused on quality and efficiency, but earning a score of 100-percent shows the accuracy and commitment of PCVS and its team," said Kevin M. McFatridge, Chief Executive Officer at PCVS. "NCQA's Certification program ensures that PCVS follows a meticulous credentialing process. In fact, most hospitals and health plans do not credential to the level of rigor that we do, which is why most organizations outsource their primary source verification to a CVO."
NCQA's CVO Certification is a quality assessment program that health care organizations can use to assess CVOs and other organizations that verify the credentials of physicians. It evaluates a CVO's management of various aspects of its data collection and verification operation, and the process it uses to continuously improve the services it provides. The CVO Certification includes rigorous on-site evaluations conducted by a team of health care professionals and certified credentialing specialists. A national oversight committee of physicians analyzes the team's finding and determines certification based on the CVO's compliance with NCQA standards.
About PCVS
Professional Credential Verification Service (PCVS) is a non-profit Credentials Verification Organization (CVO), certified by the National Committee for Quality Assurance (NCQA) and accredited by the Utilization Review Accreditation Commission (URAC), and is fully compliant with The Joint Commission's credentialing standards.
PCVS is a non-profit corporation which provides primary source credentialing verification services for hospitals, physician practices, health plans, and other health care organizations. PCVS is one of only six CVOs in the nation that is dually assessed by both NCQA and URAC. To learn more about PCVS, please visit http://pcvs.net.
About NCQA
NCQA is a private, non-profit organization dedicated to improving health care quality. NCQA accredits and certifies a wide range of health care organizations. It also recognizes clinicians and practices in key areas of performance. NCQA's website (www.ncqa.org) contains information to help consumers, employers and others make more informed health care choices.