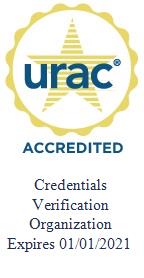 PCVS is pleased to announce it has received full accreditation status by the Utilization Review Accreditation Committee (URAC) as a Credentials Verification Organization (CVO) through January 1, 2021. Full URAC CVO accreditation means PCVS obtained 100% compliance and has been assessed and scored against more than 130 credentialing quality, security, and process standards.
Credentialing is a critical function that allows health care organizations to properly identify qualified health care practitioners for participation in their networks. URAC's Credentials Verification Organization (CVO) accreditation ensures a meaningful, rigorous, and fair credentialing process that protects both patients and providers from poor credentialing practices and minimizes legal exposure for health care organizations due to malpractice claims.1
URAC's accreditation standards emphasize information privacy, security and data integrity standards, which protect sensitive and confidential practitioner information, including, but not limited to, health status, adverse licensure and privileging actions and medical malpractice cases. The standards also ensure the various sources used to conduct credentials verifications are from reliable primary sources.  Moreover, URAC-accredited CVOs must demonstrate how they ensure the confidentiality of credentialing information and limit access to credentialing files to authorized personnel only. URAC-accredited CVOs are required to demonstrate written policies and procedures for information storage, maintenance and destruction between internal and external entity information systems, and must have documented contingency plans to access data and information in the event of a power outage. A written assessment of the potential risks and vulnerabilities to the confidentiality, integrity and availability of information systems and plan for preventive measures to mitigate confidentiality and security breaches, including detection, containment and correction of confidentiality and security violations, is required by URAC CVO standards.
URAC-accredited CVOs must also meet or exceed standards governing CVO staff qualifications, orientation and ongoing education to maintain professional competencies, and have a documented quality management program in place, which defines leadership accountability, roles and responsibilities and evaluates effectiveness of quality management programs.  These programs include access to services, complaints, satisfaction and internal interrater reliability, and are assessed using measures that are quantifiable to establish acceptable levels of performance, and include action plans to improve or correct identified problems or meet acceptable levels of performance on measures.
Contact PCVS today to learn more about how we can partner with your organization to provide the highest level of secure, quality CVO services, tailored to your organization's needs.
1 https://www.urac.org/accreditation-and-measurement/accreditation-programs/all-programs/credentials-verification-organization/.  Accessed 12/19/2017.